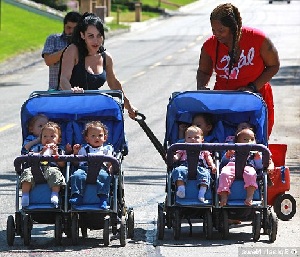 Estate Planning For Octuplets – Picking Guardians
Up until last month, Whittier, California was best known for being the hometown of Richard Nixon — and me. It looks like this honor will now pass to Nadya Suleman's octuplets and her six other kids.
I'm still waiting by the phone for Nadya to call me for some estate planning advice. I assume that in light of the numerous death threats she has received she will want to write a will and appoint guardians to take care of her kids in the event of her early demise.
Nadya, or any parents with young children should name one personal guardian for each child, and an alternate in case the first choice can't serve.
Under California Probate Law, you may name more than one guardian, but it's generally not a good idea because of the possibility that the coguardians will later disagree. On the other hand, if you prefer that two people care for your child — for example, a stable couple that would act as coparents – you should name both of them, so that they each have the legal power to make important decisions on behalf of your child.
Here are some things to consider when choosing a personal guardian for your kids:
Is the prospective guardian old enough? The person must be at least 18 years old in most states.
Does the prospective guardian have a genuine concern for your children's welfare?
Is the prospective guardian physically able to handle the job?
Does he or she have the time?
Does he or she have kids of an age close to that of your children?
Can you provide enough assets to raise the children? If not, can your prospective guardian afford to bring them up?
Does the prospective guardian share your moral beliefs?
Would your children have to move?
If you're having a hard time choosing someone, take some time to talk with the person you're considering. One or more of your candidates may not be willing or able to accept the responsibility, or their feelings about acting as guardian may help you decide.
In Nadya's case, news reports lead me to believe her parents may not want the job of guardian for the octuplets. They have their hands full helping out with their first six grandchildren. Since Nadya is an only child herself, she can forget about sisters and brothers taking the job.
Any volunteers out there?