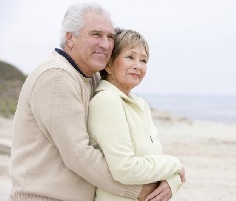 Long-Term Care Insurance, Part II: Worth the cost
News of MetLife jumping ship on the long-term care insurance market has left people panicking or shrugging their shoulders.Either the fear is growing over how to handle future costs of long-term care, or people are continuing to deny that they'll ever need it. This week, we're looking at some of the realities of long-term care insurance from the eyes of a Long Term Care Insurance broker and a Certified Financial Planner.
Don Burkhead, a long-term care insurance broker says that one of the reasons people don't invest in long-term care insurance is because they think, "This can't happen to me."
"Over the last ten years I have seen a steady decline in the number of companies offering LTCI," he says. "It is a very difficult insurance for companies to profitably underwrite due to the unpredictability and changes in the previous assumptions about future costs, longevity and claim rates."
Fortunately for me, I listened to Don eight or nine years ago and purchased a long-term care policy for myself from Genworth Insurance. I received my premium renewal notice this week, and for the ninth straight year, I had no increase. Unfortunately, according to Don, that may change next year. Genworth has put in for an 18% increase for some California policyholders with the state insurance commissioner.
Certified Financial Planner Delia Fernandez points out that every type of insurance has rising premiums, unless you buy a fixed-premium life insurance policy. She believes that people are much more sensitive toward LTC premiums rising "because it can be so scary to think about not being able to afford the coverage right when you need it the most."
Yes, long-term care insurance can be expensive, and premiums are going up. In fact, in the past, claims were unpredictable and insurance companies were grossly undercharging for the value of coverage. Meanwhile, health care costs are rising each year.
Delia suggests you run two scenarios when planning your retirement: one where you live to 100 with no long-term care costs, and the other where you expect to need at least 3 years or more of long term care at about $60,000 per year. If you can still afford to retire with that $180,000 figure looming, you probably don't need to worry. But if you can't, Fernandez suggests you consider your alternatives.
Just like any insurance plan, — be it health, life, home, or car insurance – the contrast between the premiums and the actual costs associated is stark. No matter how you slice it, long-term care insurance is likely going to be cheaper than out-of-pocket costs for care.
If you are thinking about LTC insurance, be sure to work with a good agent who understands the market and providers in your area.  Clearly some companies are more committed to the LTC market than others.