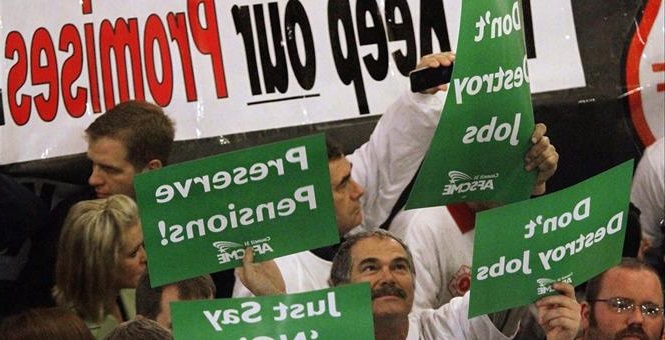 Pension Law Struck Down in Illinois
A landmark state pension law has been struck down By Sangamon County Circuit Court Judge John Belz.
The law was expected to fix Illinois' $104.6 billion government retirement system debt but Judge Belz struck it down on the grounds that it was unconstitutional.
The judge ruled in favour of the public employee unions and retirees who had challenged the law. He maintained that a public worker pension could not be diminished or impaired.
"The state of Illinois made a constitutionally protected promise to its employees concerning their pension benefits," Belz wrote. "Under established and uncontroverted Illinois law, the state of Illinois cannot break this promise."
The Attorney General of Illinois Lisa Madigan has said that this decision will be appealed and will have to be expedited since the final decision could have significant financial impact on the state. Already the city is facing a $550 million increase for police and fire pension funding in 2016. If the high court upholds this ruling, the state's pension payment could increase from $6.2 billion to $6.9 billion next year. However, if the suggested changes are upheld, the amount could go down to $5.9 billion.
Nearly a year ago, Democratic Gov. Pat Quinn and lawmakers had approved pension legislation that involved cost-of-living adjustments and required government employees to work longer before retirement and to pay a little less toward their pensions. The goal was to bring down the pension debt. However, the measure was not taken well and the union had sued.
A spokesman for the Democratic House Speaker Michael Madigan is confident that the ruling is just the first step and the law will be upheld by the Illinois Supreme Court. A representative from the Chicago Teachers Union called Belz ruling "a clear and total victory."
Democratic Senate President John Cullterton has also supported the ruling and points out that while reforms may be urgent, there is no doubt that the rule of law is absolute. He had initially suggested a separate plan involving trade-offs worked out with a union coalition and he reiterated that there is still a constitutional way to confront the pension challenge and still uphold the law.
The ruling has received praise from unions and retirees but Mayor Rahm Emanuel has a lot riding on the final ruling by the Supreme Court. Emanuel was able to get a state law passed in Chicago that altered pensions for workers and laborers in Chicago.