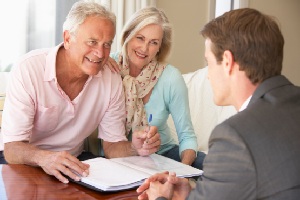 Protections and Pitfalls of Pre-Paid Funeral Plans
My Dad was a guy who loved is family and took care of little things behind the scenes to make his kids lives a bit easier. One of those things was to prepay a cremation of his body and interment of his ashes at plots that he and my mother purchased years ago at Rose Hills.
When he died, his preplanning saved me many hours of decision-making and legwork. The only downside, if there was one, is that I get periodic calls from my Rose Hills representative urging me to prepay my own plan.
Paying in advance combines pre-planning with pre-funding, which makes it an attractive estate planning mechanism. Often, prepaid burial plans are a tool used to "spend down" excess funds to qualify a client for MediCal Long Term Care benefits.
There are primarily three ways to pre-pay for a funeral: insurance, trusts, and individual funding.
An individual may buy a whole-life insurance policy to cover the costs when needed, or money may be put into a trust run by a financial institution or statewide funeral directors association.
Individual funding may be done through so-called guaranteed and non-guaranteed plans. Under a guaranteed plan, a funeral home promises that if you pay today, it will provide services to you when needed no matter how much prices rise. Many of them exempt other costs, such as flowers and music, though, and changes to the plan potentially void the price guarantee. A non-guaranteed plan offers no such price protections.
Whatever route you might choose to take in pre-paying your funeral, though, be aware of the risks.
Revoking a prepaid plan is not easy. California imposes up to a 10% fee on prepayments in trust. And, canceling an insurance policy entitles you to receive only the cash value of the policy – not necessarily the value of premiums paid – minus commissions and costs.
Also, there are widespread allegations of fraud and mismanagement within the industry. State and federal legislators are working to curb abuses through regulation and disclosure requirements, but consumer protections for those caught in a scam are still not strong.
Some consider it sound financial planning – a hedge against inflation locking in today's prices in an industry where prices continue increasing. Others simply wish to spare their loved ones the trouble of picking out caskets, buying burial plots, and making other arrangements during their grieving.
As with any investment, diligent scrutiny and seeking legal and financial advice where needed are key to ensuring your money and your loved ones are protected.