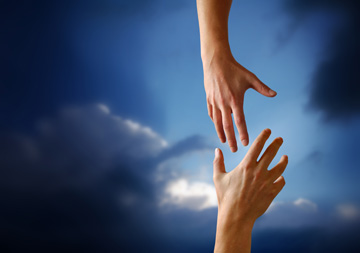 Tracy Hughes: A Passionate, Abstinent Advocate
Tracy Hughes is a man who believes in giving back. Starting life under lousy circumstances, it went downhill. Perseverance, luck and a God of his understanding helped Hughes turn his life around. Today Hughes is busy paying the goodness back.
His parents divorced when he was still young. Raised by a single mom, his life was typical until 12. His mom started using the drugs and eventually was spending more to support her habit than she was on mundane things like food and a place to live. Figuring if you can't beat 'em, join 'em, he started using when he turned into a teenager.
When his mother's drug use got her sent to prison for several years, he went to live with his father. Always an absentee parent and never part of his life, it was rough going. Moving to a new town, he sought to find some new friends. The drinking and partying crowd were the ones who took him in. For several years it was one party following another. His addiction increased and it was taking more and more of his drug of choice to achieve the same level of high.
Put into treatment programs, he was kicked from two inpatient programs when he was 21. Unable to stay away from the booze and pills, he had found he could not feed and clothe himself anymore. Living on the sidewalks, resting under the stars on park benches and only eating what the shelters would provide.
A plaza in Pasadena was his home when he woke up one morning at age 29. Denying the possibility of recovery, he surrendered to the idea that he would always be on the streets. With winter coming on, he thought he would check out the Pasadena Salvation Army Adult Rehabilitation Center (ARC). He was not going for the recovery aspects, he just wanted to come in from the freezing weather. He didn't last long. Sixth days after arriving, he got into a heated argument with the staff and packed his gear to leave the program.
Stepping into the winter wind, he came to a realization. He as an addict and alcoholic and he didn't have anywhere to go. Talking to the God of his understanding, he decided to turn his life over to a Higher Power. Figuring his life couldn't go downhill anymore, he was ready to surrender.
Making amends with the staff, he stuck around and successfully completed the residential program. The holistic approach of work therapy and addiction therapy along with counseling and the 12 Step program gave him a foundation for life after treatment.
As he started putting sober weeks and then months together, a plan for his life became clear. Twelve months of sobriety later, he met the lady who would later be his wife. This month they will celebrate their 15-year anniversary.
At his five year mark of sobriety, he signed up for college and spent the next five years working all day and attending school each night. His goal was to get a bachelor's degree and then see what might open up. The though of attending law school occurred to him then, but he was convinced his background would keep him from becoming an attorney. Doing some research, he found his history of substance abuse would not present any obstacles. Deciding to do the legwork needed and leaving the details to a Higher Power, he noticed doors started opening.
Upon graduation from college, he enrolled in night school to become a lawyer. Four years later, he graduated law school magna cum laude, passed the State Bar on his first try and was welcomed into the Bar Association.
Still feeling that his life is meant to be more than just being attorney, he now gives back to The Salvation Army, the group and program that started him on his path. Each Wednesday evening, he leads a group at the same ARC in which he had been a resident. The members of his group are new clients who need an introduction to the 12 Steps. He partners with a friend to give weekend-long seminars about the 12 Steps at ARC and in his extra time he sponsors several men.
When not busy with the ARC, he volunteers his time in a program called PRISM. Several times a month, he leads a group for a unit at the Twin Towers Los Angeles jail.
Like many people in recovery, if Tracy had dreamed about the life he wanted, he wanted, he wouldn't have come close to the life he's leading now.