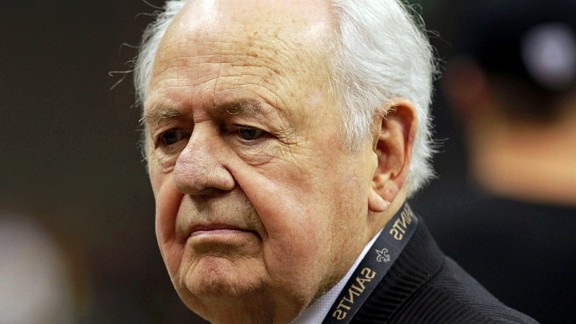 Tom Benson's Family Battle for $2 billion Fortune
Tom Benson had once anointed his daughter and grandchildren as his heirs. Today, Benson and his third wife are waging an ugly courtroom fight for control of New Orleans Saints and his $2 billion fortune.
Benson's story seems like a plot from a US soap opera but it really has turned into a bitter courtroom battle between self-made tycoon Benson and his third wife against his estranged heirs.
Benson is the business magnate and owner of the New Orleans Saints football club. His daughter and his grandchildren are demanding that he undergo a mental examination since they have doubts about his capacity to make decisions. This is in response to Benson's recent decision of transferring ownership of the Saints and the New Orleans Pelicans basketball team to Gayle Benson, his wife of 10 years.
In response, Benson has lodged his own court filings, questions his daughter Renee Benson's competence as well as her children Rita and Ryan LeBlanc's competence to run his business. In a terse letter two days after Christmas, Benson fired his heirs apparent as employees and also barred them from Benson-owned premises.
The three previous heirs apparent Renee, Rita and Ryan had been anointed as his successors long ago. He also promoted Rita LeBlanc as the co-owner of the Saints. However, since the Saints win of 2010 Super bowl, animosity between Mrs. Benson and Ms. LeBlanc increased. While it is believed that the hostility between the two was already known to insiders, fans had been unaware of this situation.
Different sources have depicted different images of the two parties. While some portray Ms. LeBlanc as unreliable and abrasive, others depict Mrs. Benson as a profligate and domineering gold-digger. It is a fact though that Benson' daughter and grandchildren have never warmed to Mrs. Benson.
During his marriage to Mrs. Benson, the rich tycoon has turned into quite a philanthropist. He has donated millions of dollars for educational causes and sporting charities.
Lawyers from the ousted heirs have already filed court challenges are seeking to throw out Benson's decision to hand ownership of the two sport franchises to his wife as well as his banking, car dealership and ranching interests. They allege that Benson has been exhibiting a pattern of bizarre behaviour and are urging the court to order him to undergo an evaluation by a geriatric psychiatrist. The ex-heirs also allege that the letter they received after Christmas was not written by the tycoon.
Mr. Benson's lawyers have asked a judge to dismiss the case on the grounds that it has no legal basis.